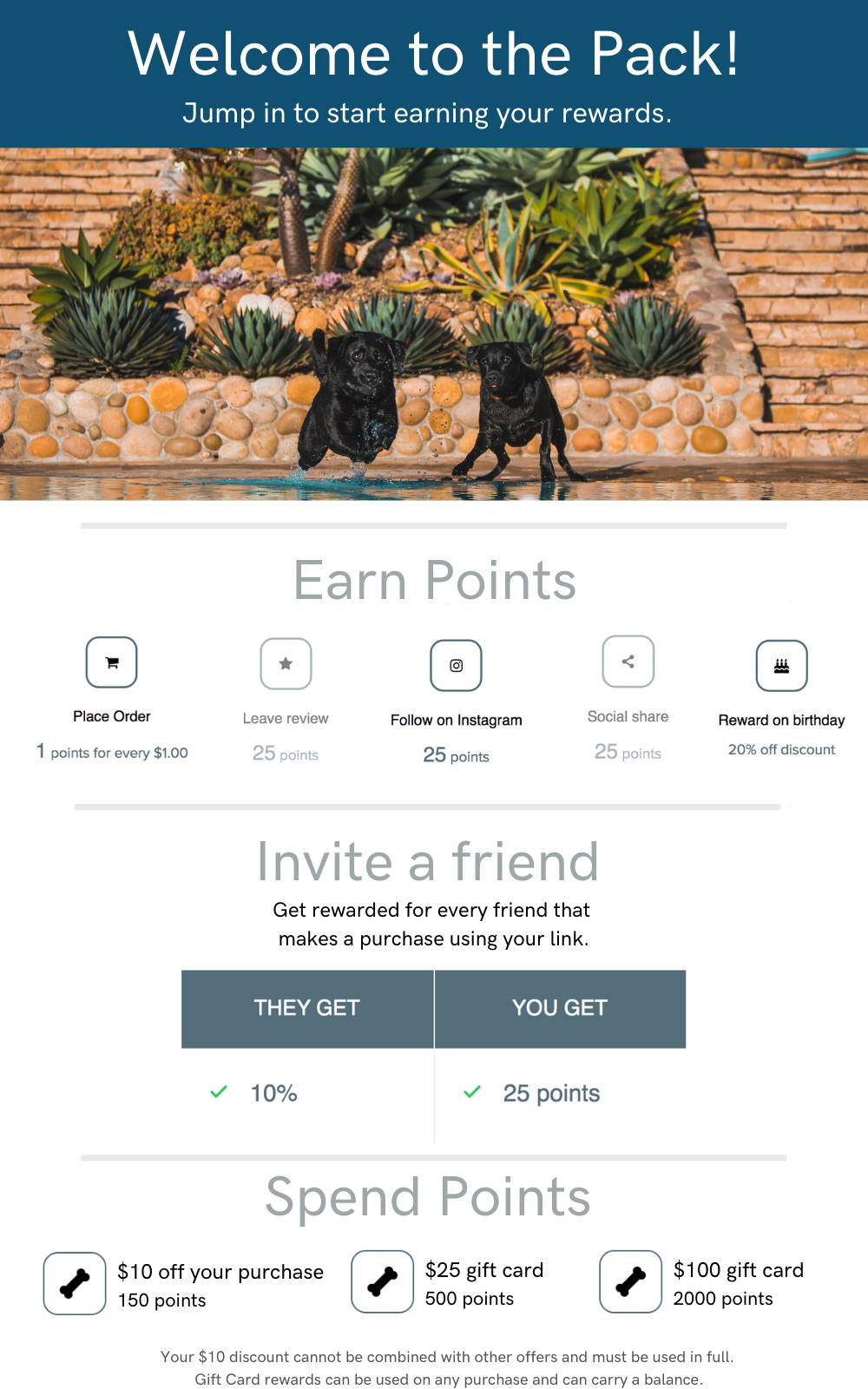 In order to join the program, just click "Create a store account". Once you have done it, you are welcome to participate in all actions we have prepared for you to earn points.
You can earn points by completing actions listed in rewards tab. Just click on "Rewards" tab to see the list of activities available for you to take part.
HOW CAN I SPEND MY POINTS?
It's very simple and straightforward. Just click on "Rewards" tab and you will see the list of all discounts or gift cards that you can use your points to redeem.
HOW MUCH DOES IT COST TO JOIN?
Our loyalty program is totally free! We do it to say 'thank you' to our awesome customers!
IS THERE A LIMIT TO HOW MANY ORDER POINTS I CAN GET?
Of course not! We want to reward your loyal orders!
I MADE MY PURCHASE ON TWO DIFFERENT EMAILS, IS THERE ANYWAY WE CAN MERGE ACCOUNTS?
Unfortunately, we cannot combine accounts. One email must be chosen and used from that point forward. If you typically checkout vi PayPal, we recommend using the account associate with your PayPal email for all purchases.
I MADE A PURCHASE, WHERE ARE MY POINTS?
Your points will be displayed in your reward program tab on our website on the bottom right and can be viewed while logged into your account. Once you receive an award you can use it anytime after they are earned as a coupon code.
CAN I USE MULTIPLE DISCOUNT CODES AT CHECKOUT?
We cannot combine multiple discount codes. One code is allowed per purchase. You will not be able to use reward point codes along with any other discount codes. However, if you choose to redeem your points for a gift card, that gift card can be used with no restrictions. You may use the gift card as well as a discount at the same time.
I STILL HAVE QUESTIONS THAT I CANNOT FIND THE ANSWER FOR, IS THERE ANY WAY TO GET IN TOUCH?
Absolutely! You can contact us by email support@muttropolis.com
---
The De-tails: 1 point is earned for every $1 spent in Muttropolis stores or at Muttropolis.com. Rewards can be redeemed in-store or online. To redeem your $10 discount, your purchase must be equal to or greater than $10. You cannot partially redeem your discount. Returns on items purchased with Rewards can only be issued store credit. Returned items will be deducted from your total points and do not count towards earning Rewards. Points are not earned on shipping costs and tax.