What We're Digging: Collars Here, Collars There, Collars Everywhere!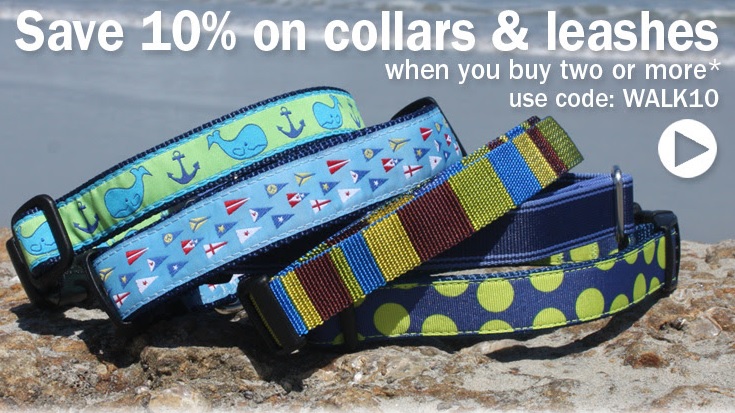 Here at Muttropolis, we think of collars like women think of shoes – you can never have too many! Because of this, we make sure to bring you the latest and greatest in collars, searching high and low for new fabrics, prints and sizes for every personality.
Our variety of collar styles and sizes is ridiculously large, ranging from glitzy leather collars to training martingale collars to basic collars for your teacup-sized pup. We like to have a wide array of styles for our customers to choose from, but that doesn't mean that we just pick any collar to add to our collection. We make sure all collars are the best of the best in design and quality.
Because we have so many collars, we have them blocked in different sections on our site so that it's easy for you to find exactly what collar you are looking for. Fabric + Nylon Collars include fabric collars with fun designs, while the Stripes, Plaids + Solid Fabric Collars include just that, fabric collars with stripes, plaids or solids in the design. Leather Collars include any collars that are leather, from plain soft leather to stud-filled leather, while Sparkle Collars include leather collars that have crystals and anything flashy (and sassy!). For the training pup, we have a special Training Collars, including martingale and gentle leaders. Our Teacup Dog Collars section is tailor-made for the small dog crew. Lastly, for the night walkers, we have a Lighted or Reflective Collars + Leashes section, featuring light-up collars from our friends at Pup Protector as well as reflective leashes.

Now that we've got you covered on what collars we offer, your next question might be "How do I know what size collar my dog wears?" To answer this question, we go back to our blog post from last year, "The Pursuit of the Perfect Collar:" For the ideal fit, you will want to allow for one to three fingers to fit between the collar and your dog's neck, depending on your dog's size. So, when you measure your pup's neck, be sure to place the appropriate number of fingers underneath the measuring tape to find the true size. Below is a breakdown of how many fingers we advise according the size of the dog:
Small Size Dog (20 pounds or less) – 1 finger's width
Medium / Average Sized Dog – 2 finger's width
Extra Large Dog - 3 finger's width
Now that you know what size your pup is, it's time to shop! Here's an added bonus: get 10% off when you purchase a collar/leash set! Use code WALK10 at checkout to save. Shop away!