WHAT WE'RE DIGGIN: Toys for Any Pup!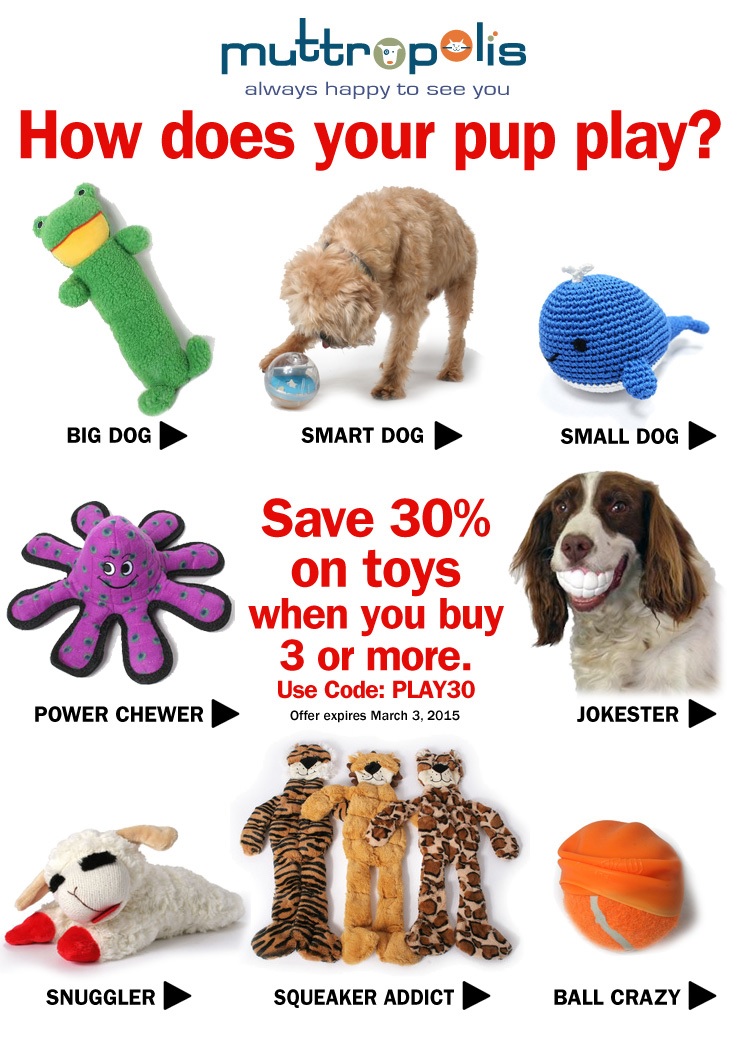 Toys are to dogs what makeup is to women: fun and exciting! Whether it be a tough toy, a sassy one or a basic ball, toys not only are fun, but make dogs happy. Because we're big toy fans, we've decided to give you one week of special toy savings: save 30% on 3+ toys from Tuesday, 2/24 to Monday, 3/2! What cool toys can you save on? We have a plethora of toys for any kind of dog! For the
smart dog
, we have awesome interactive toys that involve treats like the IQ Treat Ball and the Tornado. Not only do these toys stimulate your dog's brain, but since you put treats inside, Bowser gets a yummy reward! For the dog that loves to snuggle up to their toys, we have tons of
plush toys
featuring familiar looking friends like Lamb Chop and soft, yet super squeaky toys like the stuffing-free cat. For the ones that prefer a toy that has a dual purpose (a toy AND something that brings the LOLs),
funny toys
are a perfect fit, like the Humunga Stache or the Humunga Chomp. Got a power chewer?
Extra tough toys
like the Tuffies Tug of War toy and the Orbee Ball are ideal! This is just a taste of the type of toys we have. We also have toys for pups big and small,
rubber lovers
, or dogs that
love to play fetch
, too! To check out the rest of our
toy collection
and save 30% on 3+ toys through Monday, 3/2, check out our website or our
Solana Beach
store. Online customers: use code PLAY30 at checkout to save!