Tips To Keep Your Pets Safe This New Years Eve
We'd like to wish you and your pets a very Happy New Year! With celebrations right around the corner, we wanted to share a few tips and suggested precautions to help keep your furry friends and family members safe and sound for the holiday.
Check your pet's ID. Be sure your dog is wearing an up-to-date and visible ID tag on their collar at all times. This way, in the unfortunate event that they get lost, they can be returned to you promptly!If you find a lost pet, check their tag first and contact their owner, but if they don't have a tag, we recommend that you take them to your local animal shelter, where they will have the best chance of being reunited with their owners. Each year, animal shelters across the country are prepared for receiving "New Years dogs" that run off during fireworks celebrations.
Keep your pets on their normal diet. Human food and drinks should be out of reach of pets. Any change in a pet's diet can result in indigestion and diarrhea. Foods and drinks such as alcohol, onions, chocolate, coffee, avocado, grapes & raisins, salt and yeast dough are especially harmful and can be potentially toxic to animals. Ingestion of alcohol may cause intoxication and weakness that could lead to a coma and/or respiratory failure. Keeping dog treats on hand will allow guests who want to give your dog food a healthy and safe alternative.
Always keep matches and lighter fluid out of pets' reach. Many types of matches contain chlorates, which if ingested can damage blood cells and lead to difficulty breathing, in the most severe cases it can result in kidney disease. Lighter fluid is also very harmful. It can cause skin irritation and if ingested, gastrointestinal irritation and central nervous system depression. If inhaled, aspiration pneumonia and breathing problems could develop.
Never use fireworks around pets. When curious pets get too close to fireworks, whether activated or unused, there is the potential for severe burns and/or trauma. Many types of fireworks contain toxic substances including arsenic, potassium nitrate and other heavy metals. Also, the noise and sight of fireworks displays can spook pets, leading to anxiety and distress. Most pets will try to get away from the noise so it is best to them in a safe and secure place, preferably at home.
If needed, take additional precautions to keep your pet calm. Even well-adjusted pets can get anxious during out-of-the-ordinary events. If your pet is prone to anxiety, please consider consulting with your veterinarian on ways to alleviate their fear and anxiety prior to the New Years festivities.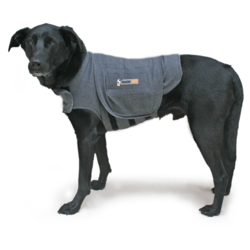 There are many natural calming products that may help. We also recommend exercising your dog early in the day, whether they are prone to anxiety or not. Make sure that any off-leash time is securely fenced and any walks have a good leash as some people may set off fireworks before dark.
We hope these tips are helpful, and wish you and your pets a safe and Happy New Year!