Tips for the Stroller Pup
Our furry friends are just another member of the family and we want to take them everywhere. Some dogs have a hard time keeping up because they are small, getting older or the summer heat makes the asphalt so hot it can be dangerous for them to walk on sidewalks all day. We recommend you let your pup ride in style...with a stroller!
Using a stroller will keep your elderly pup from getting tired and will help them feel more energetic during the day
Strollers are a great alternative to carriers. Carriers can put a lot of strain on your back, neck and shoulders, whereas a stroller adds zero pressure to your body
Strollers keep your pup off the hot ground, preventing paws from injuries such as burns and cracking
Strollers don't have to be used all the time - you can walk your pup until they get tired and pop them in the stroller for a good nap while you finish your daily duties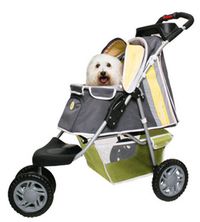 The
First Class Jogger
is a "Mutt Tested and Approved" favorite. This Jogger comes with a soft, comfy pad for your pup to lay on while looking outside the mesh windows during the daily stroll. Large wheels have suspension for a completely smooth ride and rear tires have lockable breaks. The Jogger also comes with a large basket underneath for storage. You can find this stroller and
more
at any of our
store locations
or
online
. "Stroll" away!