Surf's Up: Dog Beach Etiquette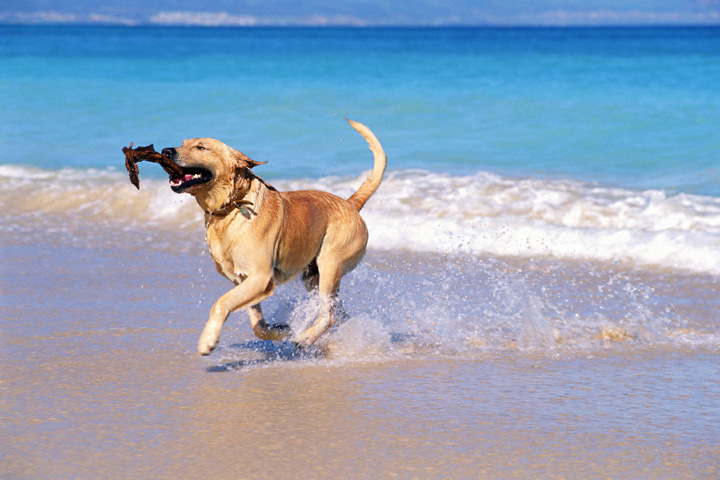 Living in sunny San Diego with a pup has its perks – not only are many San Diego restaurants dog friendly, but dogs are allowed to enjoy the surf and sun on the beach! Check your local spot for regulations on dogs. Some beaches allow dogs off-leash during certain times of the year, some only allow on-leash and some don't allow dogs at all. It's a great advantage for families with dogs, but pet parents must also remember the do's and don'ts of dog etiquette. When bringing your dog to the beach, remember these important tips:
Do bring a leash.

Keep them safe when walking to and from the beach. Once you arrive, if the beach you are attending is an off-leash spot, then release your pup's leash and harness to give them the ultimate, enjoyable experience.

Don't bring your dog if they don't have all their shots.

This is a no brainer!

Do be aware of heavy surf.

Even if your dog is a good swimmer, they may not be able to manage through some big waves. Keep them out of the water or only up to their paws if the surf is big. A

float coat

is ideal for riding the big waves. Be sure to always supervise your dog while swimming.

Don't let your dog drink ocean water. The salt water in the ocean will make them sick and cause vomiting or diarrhea. We recommend you bring fresh, clean water with you to the beach and a travel bowl.
Do walk your dog before going to the beach.

It's easy for dogs to get excited at the beach with all the sights and smells, but with a little exercise beforehand, they'll be nice and calm. Taking them out beforehand can also encourage them to go to the bathroom before heading to the beach. 

Don't let Bowser walk on hot sand. If the beach sand is hot on your feet, then it's definitely going to be hot on your pup's paws. If it is too hot, we recommend covering their paws in shoes, like the paw-protective

Summit Trex Boots

.

Do bring poop clean up bags.

This is important! Not only is it disrespectful to not pick up after your own dog, but it's just plain gross.

Don't let your dog visit others without permission.

Some people may be scared of dogs or have a dog that does not do well with others. Ask before you let your pup visit.

Do bring a toy.

Floating toys like the

Hydro Disc

are great to take to the beach - it'll keep you and your pup entertained!
Don't bring a dog that won't listen.

If your dog isn't properly trained to be out and about in public, then it's best to keep them at home.

Do have fun!
The same rules apply when bringing your dog to a restaurant or dog park.