Rest Assured: How to find the Perfect Dog Bed
To sprawl out or cuddle up? Sink in or feel firmness? Whatever sleeping style your pup prefers, we have just the right dog bed for them, the commonality being exceptional, luxurious quality that provides a comfy place for your pup to relax.
You may be asking yourself, "Where to begin?" Searching for the perfect dog bed for your pup can be rather confusing. There are an abundance of different styles, shapes, sizes, materials, and more, making the choices endless. Our goal is to help you narrow down those options, so we've put together a few pointers to help guide you towards the perfect bed. Determining your dog's needs and likes are most important, but there are quite a few additional things to consider. So read on, and hopefully you'll feel much more educated on your next purchase!
~~~
Why does your dog need a bed?
Every pet deserves a comfortable place to rest, and so a bed is an essential, but beds can also be used for a variety of training solutions. Giving your dog a place of their own makes them feel more secure and comfortable in your home, and often will keep them out of trouble. Beds can also be used for travel. Placing a small bed or mat in your car teaches your dog to stay in a safe place and alleviates distractions while you're driving. Determining how and where your pup will use their bed is the first step in making the right choice.
Observe your dog.
Does your dog like to curl up in a ball or sprawl out? Do you have a puppy that might need a more durable fabric or a senior dog that could benefit from orthopedic support? Shape and design are the next features to consider when making your bedding choice. Bolstered beds, often called donuts or cuddlers, come in square, circular and oval shapes and are perfect for snuggly dogs who like to tuck their paws in and curl up tight. If you have a sprawler, your pup would be more comfortable on a pillow bed where they can easily stretch without restriction from a bolster. If you have an aging pet, a low, orthopedic bed may be easiest on their joints.
Many beds are constructed to be machine washable, but some have components that must be hand washed. This is important to know prior to making your purchase, especially if you prefer to wash often or have a dog that is prone to making a mess. Have a new puppy? We recommend choosing a bed that you can easily care for, accommodating for their extra messes.
Sizing is key.
A bed purchase is a big purchase, so be sure you're choosing a bed that is the correct size for your pup. While shopping you'll notice that sizing is not standardized across manufactures or shapes, so just because you have a medium sized breed doesn't mean that you should purchase a medium sized bed. If you'll be buying your dog's next bed online, we often recommend pulling out a tape measure or meter stick to get a good visual picture. While lying flat, completely stretched out, your dog should not hang off the bed. If your pet's measurements are in-between sizes, we recommend purchasing the larger of the two sizes.
Introducing a new bed to your dog.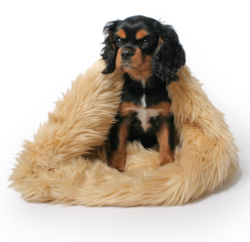 Many dogs are skeptical of their fancy new pad for the first few days. Properly introducing them to their new dog bed is a simple process. To help your dog get comfortable, use positive reinforcement and never use the dog bed as a place to go for punishment. Hide some healthy dog treats inside, cuddle with them on the dog bed, or give them a new bone to chew when they are lying on their bed. All of these supportive experiences will convince your pet that the new dog bed really belongs to them.
~~~
Once you've answered these questions and considered these features, it's time to search out the style that best suits you and your pup's personality. Colors and prints are in abundance in our stores and online. With an astute buying team behind the reigns, Muttropolis has become the best place to shop for the latest, design-driven, luxury dog beds. So take a look at our selection, one of the widest in the pet products marketplace, as we'd love to help you find the next bed for your pup!
Our dog bed categories include Square Bolstered Dog Beds, Round Donut Dog Beds, Double Donut Dog Beds, Pillow Dog Beds, Dog Bed Duvet Covers, Outdoor Dog Beds, and Dog Mats and Blankets, many of which can be found in stores and all available online.