We have quite a few stories revolving around dogs this month! We love seeing dogs in the news, whether it be something hilarious, an interesting new study or something that's sure to bring the tears. Have any pet-related stories you'd like to share with us? Post the stories on our Facebook page! Your Pet Might be Peeved! Study Finds that Dogs Get Jealous Too Well this explains a lot! Researchers at UC San Diego (right in our backyard!) conducted a study determining whether or not dogs have a sense of jealousy. 36 dogs and their owners were used in the study that consisted of noting dogs' reactions of their owners petting animated toy dogs. The results are not surprising – dogs DO get jealous! Once the pups would see their owners petting the toy, they would try to break the connection between the owner and the toy. Just another way that dogs are like humans! These Two Dogs Got Married and the Whole Thing is Straight out of Your Pinterest Wedding Board Bring on the LOL's! Hudson and Chelsea, two Dachshunds whose parents are good friends, had a wedding. Sounds cute,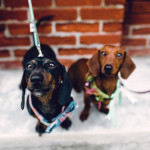 right? Be prepared for nothing that you'd expect, as these two were given the true Pinterest wedding treatment, from beautifully illustrated invitations to fabulous floral arrangements to a Bulldog officiate. If only we were invited to this wedding! Missing Pennsylvania Dog Found 3,000 Miles Away from Home Could you imagine getting a call that your lost pup was found 3,000 miles away?! The owner of 7-year old Jack Russell Terrier Gidget probably didn't. Gidget had been missing from the owner's house in Pennsylvania since late April and was found walking the suburbs of Portland in September. When Gidget was brought to the nearest shelter, they were able to determine through a microchip that she came from right outside of Philadelphia! No one really knows how or why Gidget was taken cross-country, but all that matters now is that she is found. Life for Regular People vs. Life for Dog People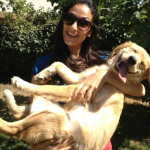 Buzzfeed has nailed it again with this photo comparison between life with a dog and life without. I'm sure you can all guess which life seems more fun and exciting. :) Susie the Therapy Dog, Abused as a Puppy, Named Hero Dog of the Year This one is a tearjerker for all the right reasons. Meet Susie, an adorable pit-bull mix that was beat and set on fire by her owner in 2009 after licking (also known as KISSING in dog speak) the owner's child. This sweet baby suffered third-degree burns and her ears were burned off. Before you start crying out of sadness, let's fast-forward to Susie's recovery and an adoption by Donna Lawrence. Lawrence adopted Susie less than a year after she herself had been brutally attacked by a neglected pit bull, which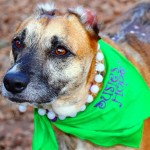 caused her to lose her ability to have kids. Lawrence and Susie were meant to be, as they both learned to trust one another. Susie is now a therapy dog that helps people that have been through traumatic events and has even helped create stronger anti-cruelty laws in her home state of North Carolina (along with Lawrence, of course!).