LIFE @ MUTT: We're Turning 84 this Year (in Dog Years)!!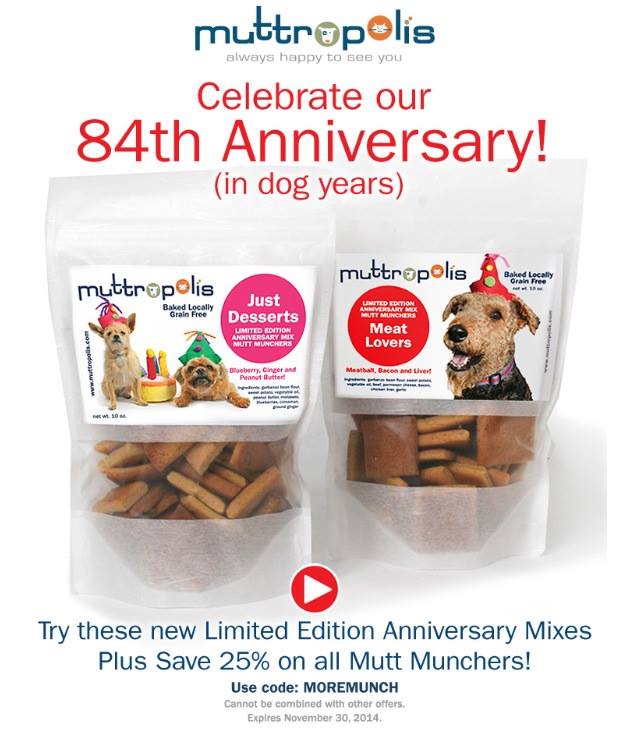 We are so proud to be part of the community for the last 12 years. It's been an amazing journey from our original store in Solana Beach to growing through the recession to 3 stores and a fast growing website! As a utopia for pets and their parents, we've met thousands of new furry friends and helped hundreds of dogs and cats find forever homes. To celebrate this monumental month, we're introducing two limited edition flavors: Anniversary Dessert Mix and Anniversary Meat Lovers Mix. An added bonus? We're offering our entire line of locally-made
Mutt Munchers
$3 off! The Anniversary Dessert Mix contains our most popular dessert flavors:
Blueberry
, Ginger and
Peanut Butter
, and the Anniversary Meat Mix contains our most popular meat flavors:
Bacon
,
Meatball
and Liver. In addition to our Anniversary Blends, we are bringing back our Seasonal Flavors, including Pumpkin Pie and Crown Roast. Other flavors include: Peanut Butter, Blueberry, Ginger, Salmon, Bacon, Liver and Meatball. These treats are made locally in Carlsbad, are grain and gluten free and include only all-natural, human-grade ingredients. Garbanzo beans take the place of grains, resulting in a tasty treat packed full of protein and dietary fiber. Each Mutt Muncher is about 18-19 calories and have an approximate 1 year shelf-life if the bag is completely sealed. Why grain-free? Grains are a common allergy in dogs and can cause itchiness and other uncomfortable symptoms. Because grains take much longer to break down in the stomach, dogs often have trouble digesting them. Sticking with food and treats that are grain-free will make a positive impact on any pup's health. Delicious, nutritious and cost efficient,
Mutt Munchers
make a great addition to any dog's diet! Visit us online or in one of our
Southern California store locations
to enjoy these Anniversary savings! Online customers can redeem their discount by entering MOREMUNCH at checkout.