Keep Your Pets Flea Free, Naturally!
With an abundance of flea and tick prevention products on the market, surrounded with a great deal of press and controversy, shopping for a safe and successful product for your pup can be quite a confusing hassle! But not to worry, Muttropolis is here to help. We have a Natural Flea & Tick Control Collection that offers many safe alternative options to keep your pet healthy, happy and flea and tick free!
Why do we only carry all-natural remedies? Well we know that prolonged exposure to chemicals is not good for humans, so why should it be okay for your pet? This is why we believe in finding only all-natural alternatives to prevent and control flea and tick infestations. While many chemical-based products seem to do the trick, they can be dangerous when not used properly and have in many cases lead to serious illness and death in pets. Reports have demonstrated a link between chemicals commonly used in flea and tick products to other serious health problems, so it is very important for pet owners to be educated on what's safe and what's not. Let us help educate you. Below you'll find more information
about the products in our
Natural Flea & Tick Control Collection
.
Flea Free Food Supplement: Keep your pet flea free the natural way with this food supplement! Liquid based, this formula contains garlic (which boasts over 200 vitamins, minerals, amino acids and enzymes) and vinegar (packed with over 90 nutrients such as essential amino acids, helpful vitamins, minerals and enzymes). When used daily, Flea Free prohibits blood-feeding insects from biting and prevents the laying of eggs. For more information click here.
Arctick Non Toxic Tick Removal Spray: A safe and 100% effective alternative to typical tick pesticide treatments, Arctick is a FDA registered non-toxic spray that instantly freezes and kills ticks on contact. By immobilizing the tick before removal, you can effectively stop the transmission of fluids between the tick and your pet. Designed to prevent the spread of infectious disease which may occur during the removal of a tick. Tweezers are included. For more information click here.
Richard's Organics Flea Dog Shampoo: Naturally gentle, safe, and formulated to kill fleas without subjecting your dog or puppy to the harsh chemicals found in traditional flea shampoos. This 100% all-natural flea shampoo is safe for dogs and puppies over 12 weeks of age. Also repels mosquitoes. For more information click here.
Richard's Organics Flea and Tick Dog Spray: Formulated to kill and repel fleas and ticks for up to four weeks without exposing your pet and family to harsh chemicals. Safe for dogs and cats over 12 weeks old and safe for use around children. This spray helps sooth irritated skin with Chamomile and Aloe Vera extracts. For more information click here.
Shoo! Tag: Creates a protective barrier from targeted pests, reaching maximum strength within 36 hours after attachment. When used as instructed, the three dimensional electromagnetic field embedded in the magnetic strip utilizes the power of the bio-energetic field which surrounds all living things to create a frequency barrier around pets for up to four months. Chemical-free, odor-free and safe for pets, people and the planet! For more information click here.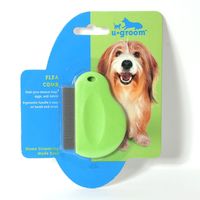 Flea Dog Comb: Simple and easy to use, just comb in the direction of hair growth, pulling the comb up and out of your pet's coat to remove fleas, eggs and debri. The ergonomic handle is easy on hands and wrists. Recommended for all dogs and cats. For more information click here.
All of our Natural Flea & Tick Control Products can be found in our three store locations or online at Muttropolis.com. We hope to help you keep your pup flea and tick free this season!