Give Your Pup the Gift of Sweet, Eco-Friendly Dreams!
We spoil ourselves with beds that are large, comfortable, and soft – why not spoil your pup the same way?! Our fur babies deserve a similar, plush sleeping experience as we do...I mean, when you think about it, they do follow us around all day, which is sure to be tiresome!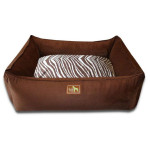 When looking for a bed, why not choose one that's not only comfy for your pup, but eco-friendly? We have an amazing selection of eco-friendly dog beds that are not only comfortable enough to make your pup have a good night's sleep, but will make you feel like you're doing something good for the environment. You may be asking yourself what could possibly be eco-friendly about these dog beds. The answer lies within. Some of these beds featured are stuffed with 100% recycled fiber fill, while others are made with hemp fabric. Bed covers are another eco-friendly way to let your pup sleep easy, as you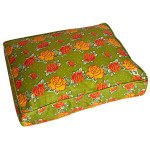 can recycle anything from an old bed to clothing, sheets and towels when stuffing these covers. They're just as comfortable as a bed and are sure to give your dog a very peaceful and dream-filled sleep. Every year, tens of thousands of dog beds are made and sold in the United States. As the world attempts to become more environmentally friendly, eco-friendly products are increasingly becoming the better option.