Spring is underway, and for many this is the season for home improvements.
Whether you are about to embark on spring cleaning, redecorating, or even construction, we have a few share-worthy ways to incorporate your pet in your home improvement projects.
Light up their world.
The Barkitect recently wrote a great blog post about dog windows. Studies have shown that allowing dogs to see what is happening outside their confined space tends to reduce their stress. This concept is picking up steam and we're seeing doggie daycare and boarding facilities incorporating dog windows in their facilities. As The Barkitect mentions, it's a very interesting concept, one that can be incorporated in home design as well. Not only will strategically placing windows at low levels potentially elevate your pup's mood, it will also create a visually unique look-and-feel, and bring more light into your home.
Maximize space with nooks.
Whether your home is big or small, there is no need for wasted space, especially when your pet can benefit. How are you using the space underneath your stairs? Or the lower half of your closet? These are just a couple of the areas often overlooked in terms of design. Don't fall into this trap, especially if you have a hound. Using these spaces for a dog nook, house, or built-in bed, is practical and can be a very visually pleasing solution to creating a special place for your pup. Need some inspiration? The Barkitect and Atticmag have great pictures to peruse.
Build dining in.

This dog-friendly design tip is a little more do-able for those of us who aren't interested in a large overhaul. Creating a built-in feeding station is a great space saver, one that frees up floor space and keeps inevitable messes confined. Most built-in feeding stations are raised, which is recommended by veterinarians to help prevent pups from gulping down their food, which lessens the chances of digestion issues. Most of the designs we've seen are built into a kitchen island or a cabinet, some are even built-in to a drawer, offering quick and easy access and the ability to hide the bowls when breakfast or dinner is over. If you choose the latter, don't forget to have your pup's water elsewhere. Head over to TMS Architects' site for more examples.
Keep them clean, conveniently.
You'll never have to visit your local dog wash if you have one in your home! Adding a pet bathing station may be the most common of all these dog-friendly design additions, and what a great one it is. If you have a smaller pup you may want an elevated bath, whereas with larger dogs it's nice to have a step-in standing shower design. Most people put them in their laundry room, but if space inside is limited the garage is a great alternative. It may be a pricey addition at first, but think of the money you'll save in grooming bills.
Don't forget outdoor design.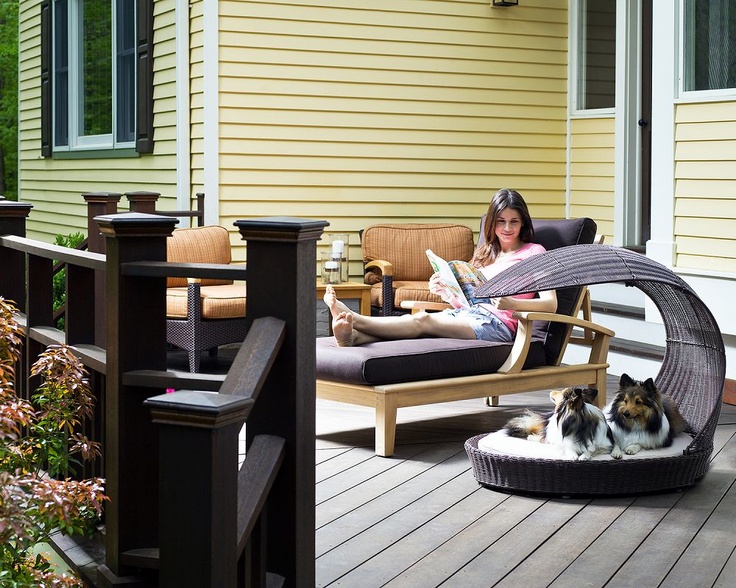 For many down here in sunny Southern California, an outdoor living space is equally as important as indoor. So how do you incorporate your pet in your outdoor space? A traditional dog house is one way, but there are much more contemporary designs available these days. Take the Outdoor Dog Chaise Lounge for instance. It's waterproof, made with synthetic weatherproof rattan, and provides your pup with shade from the sun. And did we mention how stylish it is? Traditional dog houses can take up a lot of room and are often too heavy to move. Instead, choose a lightweight design that provides your pup with a special place while also adding style to your outdoor setting.
Let the dog-friendly home improvements begin!