An insider's look at what Muttropolis dogs can't wag without.
Meet Gatsby, a Boxer rescue, and his proud Mama Ria, a member of the Muttropolis pack. Gatsby was adopted in July of last year weighing in at a measly 57 pounds and suffering from pnemonia. Ria came to Gatsby's rescue and now he is a very healthy and happy 71 pounds. He is spoiled with the luxuries of being a Muttropolis pup, acting as a "product tester" of sorts, but Ria can attest that if she really wants to get Gatsby's tail wagging, she must turn to a few of his favorite things.
Plato Thinkers + Tucker's Chicken Breast with Bacon
Gatsby is hooked on the ginkgo baloba in these so called "Smart Dog Snacks," the Duck variety being his favorite. Plato Thinkers are made from only all-natural and organic ingredients, they are fortified with antioxidant vitamins, a great source of iron, and with ginkgo biloba they even nourish brain function. Watch out Ria, Gatsby may start outsmarting you with these in his daily diet!
Tucker's Chicken Breast Dog Treats also get Gatsby's tail wagging. Gatsby gets to enjoy these when he deserves something decadent, and according to Ria that's more often than not! His favorite flavor is made with just two simple ingredients, human grade chicken wrapped in bacon. Yum yum.
Fleece Stick Animals + Talking Toys
Being a big boy, Gatsby generally gravitates towards larger dog toys. Currently he can't get enough of his Huge Monkey Stick Dog Toy. Fun to carry around and cuddle up with, Gatsby's monkey is never far from him, even when he's playing outside. Gatsby also gets a kick out of talking toys. When Ria gives them a sound activating squeeze, Gatsby perks up and leaps to play.
The One & Only Katie Puff Bed
At the end of each day, or simply when Ria is away, Gatsby loves to cuddle up in his Animals Matter Plush Companion Katie Puff Dog Bed. Generously overstuffed with down-like fiberfill and covered in lavish chenille, Katie Puff dog beds bring luxury to a whole new level and lucky Gatsby agrees. Ria enjoys the easily removable cover. All she needs to do is unzip to clean in cold water and hang dry.
Luxury Leather Collars
Gatsby is short haired and has sensitive skin so Ria keeps him in leather dog collars of the highest quality, often handcrafted. Collars are a great way to highlight a pup's personality, but they're often also representative of the owner's preferences. Ria is a huge fan of decorated leather collars, so Gatsby is always adorned in turquoise stones or metal embellishments, making him all the more handsome.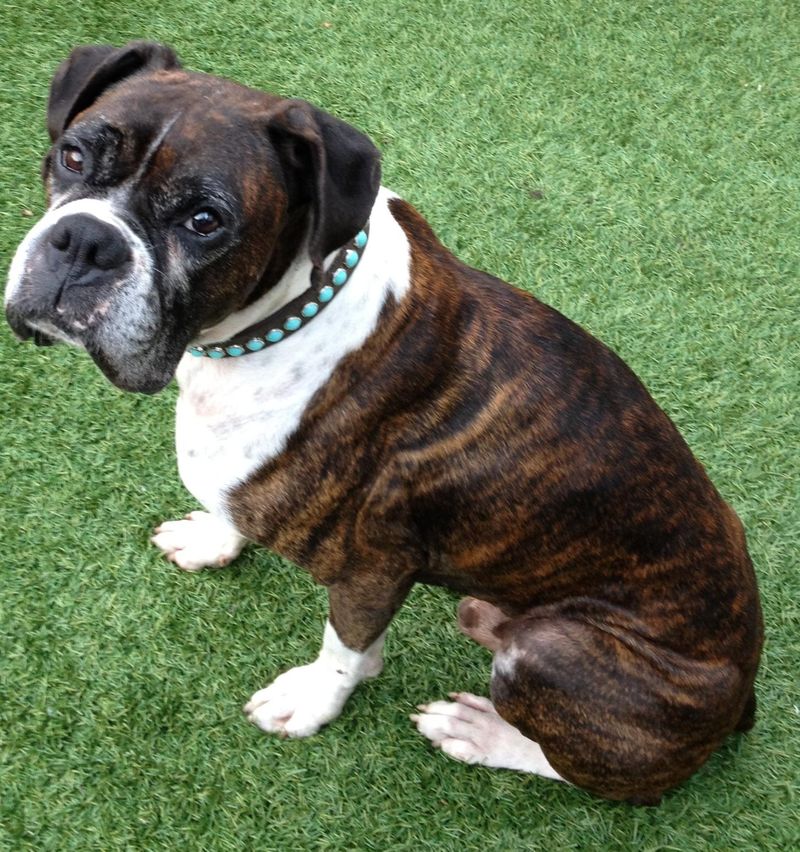 Belmont Raised Bowl
If you haven't noticed already, Gatsby is living a life of luxury, so of course he dines in style too. Since he's taller in stature, Ria knew the importance of investing in an elevated dog feeder. Raised feeders are recommended by veterinarians to help prevent pups from gulping down their food, which reduces air intake and the possibility of bloat and gas. Being a sophisticated pup, Gatsby dines in a Belmont Elevated Dog Bowl.
What keeps your pup wagging?
All products mentioned can be found in Muttropolis stores or at Muttropolis.com